"REHEARSING FOR LIFE" Free Performance Workshop @the HUB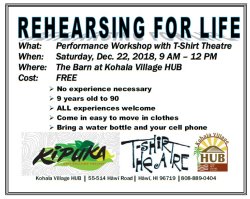 What

"REHEARSING FOR LIFE" Free Performance Workshop @the HUB

When

12/22/2018, 9:00 AM

–

12:00 PM

Where

The Barn at Kohala Village HUB 55-514 Hawi Rd., Hawi, 96719
REHEARSING FOR LIFE
What: Performance Workshop with T-Shirt Theatre
When: Saturday, Dec. 22, 2018, 9 AM – 12 PM
Where: The Barn at Kohala Village HUB
Cost: FREE
Ø No experience necessary
Ø 9 years old to 90
Ø ALL experiences welcome
Ø Come in easy to move in clothes
Ø Bring a water bottle and your cell phone
We call our devised theatre process "Improv to Script." We start in a circle and share "one good thing." It clears the air, leaves negativity outside, and lets us all feel positive thoughts as we begin to collaborate. We do a few warm-up activities to engage our bodies and ignite our imaginations. "Focus", "Safety" and "Do Your Best" are the rules and the ethical foundations for our work. Where the eyes go, the brain is soon to follow. All guidance is imbued with kindness and respect.
Following local tradition, we start the creative process by "talking story." We use deep listening skills and try not to interrupt. The shared stories become the content of the workshop. Can you make a picture or tableaux of a word that sums up your story? Can you stand up or improvise a short scene, with each member speaking at least one line? We use our cell phones to write up our scenes.
For 38 years, T-Shirt Theatre has helped young Kalihi "rehearse for life" by mastering performing skills needed to win jobs, justice and joy." We choose to work with original scenes rather than scripted plays to provide maximum opportunity for both playwrights and actors. We celebrate maximum student involvement in every phase of the work by refining short sketches into gems versus investing in a single person's story. Our students' creativity gets published for a live audience of 2,400 Farrington High School students every year.
Copy to Google Calendar
•
Download iCal Event